FUN, FUN, FUN! I love making paper dolls, so I am now the host for a jointed paper doll swap. I can't wait for this swap to start getting people signed up. I joined swap-bot a couple of months ago, and it a neat thing to do if you like getting snail mail and or packages. It's just a social networking site, but with a twist. People create swaps for all different kinds of things, then other people who belong to the site sign up for the ones they want. Swap bot then posts the swaps, and when the host reaches the end of the sign-up period, Swap bot assigns you your swap partner and you send whatever the item is out to your partner.
I swap with Swap-bot!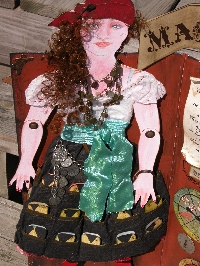 So, here is a picture of a Ginormous paper doll I created a while ago. She is a fortune teller doll, and all the pockets in her completely-made-of-paper skirt contain paper fortunes. She is jointed, has hair, and has a cute pair of pantaloons and a
cami
under her outfit.
Anyway, I think this will be a lot of fun, and I can't wait to get started on my doll. See, I DID find something to do in the here and now, and No, Michele, it wasn't having someone stomp on my foot! (You silly wabbit) Michele, Deb, Jack, Cathy, I challenge you guys to join my swap!!!!!
I will re-post the widow here, too, in case others from Swap-bot jump by here to check out my dolls.
THE WIDOW!!!!
This doll now resides in the
Scrapshack
. She has a place of honor along with her BLACK HAT. Her clothes are entirely made of paper, too, just like the Fortune Teller, Madam
LaWeja's
, clothes.
This is a mean looking doll, but that wasn't the way she was supposed to turn out! I wanted her to be a Spanish lady, and she would have had a mantilla. Oh well, that will come another time. She looks okay without her clothes, but with all that black on , she looks very severe.
I just came back in from a walk down through the back forty with the hounds. (It's really not the back forty, more like the back ten) It was so nice, and I really wore them out. Freda ( the girl) is football shaped, so she really needs to get more exercise. She takes after her "Momma" in that respect. Anyway, it was gorgeous, and I think it also helped my mood. So, right now I'm not so focused on the future happenings. The goats? She's huge, but she'll have those babies when she's good and ready. I just worry that we won't be here and she will have too many for her to deal with since she has been a "one
bunner
." (My term for single baby,tee-
hee
) Anyway, it can't be helped, so there's no sense worrying over it. As for my surgery, it will get here soon enough. It's not as if I am even ready for it. I still need to make sub plans for a month and clean my house, so I have enough to do without dwelling on when it will happen. so, that
should b
e enough to keep me grounded firmly right where I am - In the here and now!